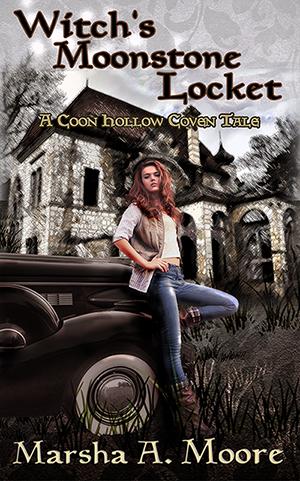 Witch's Moonstone Locket
A Coon Hollow Coven Tale
~a paranormal romance~
Twenty-three-year-old Jancie Sadler was out of the room when her mother died, and her heart still longs for their lost goodbye. Aching to ease her sorrow, Aunt Starla gives Jancie a diary that changes her entire life. In entries from the 1930s, her great grandmother revealed how she coped with her own painful loss by seeking out a witch from nearby Coon Hollow Coven. The witch wore the griever's moonstone locket, which allowed whoever could unlock its enchantment to talk with the dead.

Determined to find that locket, Jancie goes to the coven's annual carnival held in her small southern Indiana town of Bentbone. This opposes her father's strict rule: stay away from witches. But she's an adult now and can make her own decisions. She meets Rowe McCoy, the kind and handsome witch who wears the moonstone. He agrees to let her try to open the locket, but they're opposed by High Priestess Adara and her jealous desire to possess him. Desperate for closure with her mother, Jancie persists and cannot turn away from a perilous path filled with magic, romance, and danger.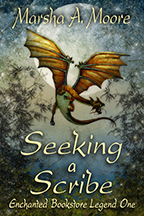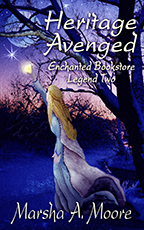 Enchanted Bookstore
Legends
~an epic fantasy romance~
The Enchanted Bookstore Legends are about Lyra McCauley, a woman destined to become one of five strong women in her family who possess unique magical abilities and serve as Scribes in Dragonspeir. The Scribes span a long history, dating from 1,200 to present day. Each Scribe is expected to journey through Dragonspeir, both the good and evil factions, then draft a written account. Each book contains magic with vast implications.
Lyra was first introduced to Dragonspeir as a young girl, when she met the high sorcerer, Cullen Drake, through a gift of one of those enchanted books. Using its magic, he escorted her into the parallel world of Dragonspeir. Years later, she lost that volume and forgot the world and Cullen. These legends begin where he finds her again—she is thirty-five, standing in his enchanted bookstore, and Dragonspeir needs her.
When Lyra reopens that enchanted book, she confronts a series of quests where she is expected to save the good Alliance from destruction by the evil Black Dragon. While learning about her role, Lyra and Cullen fall in love. He is 220 years old and kept alive by Dragonspeir magic. Cullen will die if Dragonspeir is taken over by the evil faction…Lyra becomes the Scribe.