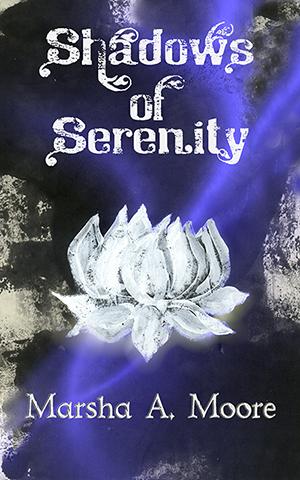 Shadows of Serenity - a magical realism mystery
Joyce Runsey spends her life savings to open a yoga studio in an historic Victorian St Augustine house, only to discover the property is haunted. A female ghost's abusive and very much alive husband still tortures her by using dark witchcraft. The disruptive energy thwarts Joyce's ambition to create a special environment to train students to become yoga teachers.
Joyce engages in a deadly battle with not only the tormented spirit, but also the dangerous husband. To protect her students from harm, she must overcome mounting obstacles. An unknown swami pays an unexpected visit to give advice on how to free the anguished ghost. Can Joyce comprehend and follow the wise man's guidance in time to save everyone who depends on her?
Praise:
"The juxtaposition of a serene, peaceful yoga studio, set up against the mystery and dark energy of the paranormal, made for a fascinating read!" ~April Wood, from A Well Read Woman
5 stars! "I absolutely love this book. It has a great plot and a nice flow to it all. I like how Marsha mixes it up to show it from the perspective of some of the major characters, which makes it an even better read. She is well versed and has a great style of writing. She slowly starts off and keeps building up the story line until the very end when she finds a great way of solving it all.
The main characters are all very loveable and you can't but help feeling with them. It is truly a nice mix of people she choose for this. It made me want to join their group and learn more about yoga. I have never taken a yoga class but reading this, really makes me consider it. It was a little odd, but just reading about their relaxation and mediation methods, made me calmer reading it all, now that is true impact.
Thanks for sharing this. This is truly a gem and I am glad I got to read this." ~Ramona Plant on Goodreads
"I absolutely love old Victorian Houses and ghost stories. Usually these things have nothing in common but in this book it's makes for an amazing connection! Add in a scary abusive husband AND the "serenity" of yoga and you've got yourself an amazing story! I really enjoyed every part of this book." ~Heather on Goodreads
"The ghost's tale on its own would satisfy fans of the paranormal, but Ms. Moore's knowledge of yoga and of yoga teacher training brought an extra dimension to the story. That knowledge brought to life deeper spiritual aspects of the practice that, even as someone who practices yoga as a layman, I never knew before. For that, alone, I enjoyed this story, and I loved how it all deepened for the characters as they learned not only their new path in life but more about themselves and each other. As much as the yoga theme deepened the story, I think even readers less well-versed in the practice will enjoy the rich world the author built in Shadows of Serenity." ~Juli D. Revezzo, on Eternal Haunted Summer