COON HOLLOW COVEN TALES
~a paranormal fantasy romance series~
The series is about a coven of witches in a fictitious southern Indiana community, south of Bloomington, the neck of the woods where I spent my favorite childhood years surrounded by the love of a big family. The books are rich with a warm Hoosier down-home feel. There are interesting interactions between coven members and locals from the nearby small town of Bentbone. If magic wasn't enough of a difference between the two groups, the coven folk adhere to the 1930s lifestyle that existed when the coven formed. Note to readers: please feel free to enjoy reading my books about Coon Hollow Coven in any order. Residents of the Hollow may pass in and out of various books, but each book has its own unique and special story to be told.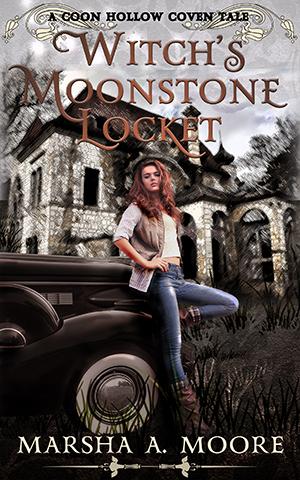 Witch's Moonstone Locket
Twenty-three-year-old Jancie Sadler was out of the room when her mother died, and her heart still longs for their lost goodbye. Aching to ease her sorrow, Aunt Starla gives Jancie a diary that changes her entire life. In entries from the 1930s, her great grandmother revealed how she coped with her own painful loss by seeking out a witch from nearby Coon Hollow Coven. The witch wore the griever's moonstone locket, which allowed whoever could unlock its enchantment to talk with the dead.
Determined to find that locket, Jancie goes to the coven's annual carnival held in her small southern Indiana town of Bentbone. This opposes her father's strict rule: stay away from witches. But she's an adult now and can make her own decisions. She meets Rowe McCoy, the kind and handsome witch who wears the moonstone. He agrees to let her try to open the locket, but they're opposed by High Priestess Adara and her jealous desire to possess him. Desperate for closure with her mother, Jancie persists and cannot turn away from a perilous path filled with magic, romance, and danger.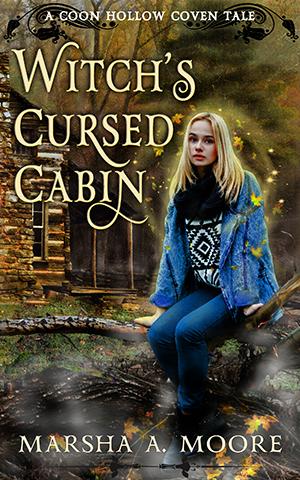 Witch's Cursed Cabin
Eager to be on her own away from home, twenty-year-old Aggie Anders accepts a relative's invitation to live in Coon Hollow Coven. Although she's a witch from a different coven, what locals say about the Hollow confuses her. How can witchcraft there live and breathe through souls of the dead?
Aggie's new residence in this strange southern Indiana world is a deserted homestead cabin. The property's carriage house serves as the coven's haunted Halloween fundraiser. It's a great opportunity for her to make new friends, especially with the coven's sexy new High Priest Logan.
But living in the homestead also brings Aggie enemies. Outsiders aren't welcome. A cantankerous, old neighbor tries to frighten her off by warning her that the homestead is cursed. Local witches who practice black magic attempt to use their evil to drive Aggie away and rid their coven of her unusual powers as a sun witch.
Determined to stay and fit in, Aggie discovers not only that the cabin is cursed, but she alone is destined to break the curse before moonrise on Samhain. If she fails, neither the living nor the dead will be safe.
PRAISE:
I'm really loving the Coon Hollow Series! I like the new adult theme and the witchcraft lore of these books. There is also a subplot of romance for those who love the endorphin rush of a happily-ever-after! Aggie was such a great character. I really enjoyed reading about her adventures in Coon Hollow. The romance in this novel wasn't as strong as book 1, making this book more of a female-driven novel. Aggie was no damsel in distress! The world building was vivid and absolutely fantastic. When you read a book by Author Marsha A Moore, be prepared to escape into her fantasy worlds. I love her writing style. Overall, I would highly recommend this series to fans of paranormal romance focusing on witchcraft. 5 stars! ~A Well Read Woman
5 stars--This fantastic tale has a little bit of everything. My personal favorite, a quirky yet secretive ghost living in the homestead cabin with Aggie, the main character. The town of Coon Hollow had a comforting homey feel where the witches are down-to-earth, friendly Midwesterners. I liked the originality of the 1930's environment in a present-day world. With all the mysteries to solve and a curse to break, it makes for a great thriller as well. Loved it! ~Lori, Amazon reviewer
5 stars: I really liked book one. But this one just blew me away! More details, characters, world building. I just loved being sucked right in and glued to the pages. Anywho, Aggie is a witch from another coven and is moving to Coon Hollow Coven. Not only is she confused about the dead souls still having witch craft in them, she's also an outsider. A coven is protective and doesn't like outsiders. But I just thought that these people were really mean and tried everything they could to drive her away. Black magic, cursed cabin, wanting her powers. All this and Aggie still held her place. She didn't let anyone stop her, and so what if the cabin is haunted. That just means she will be focusing on a way to break the curse. Otherwise this will just be a daily thing for her, oh and no one will be safe of course.
Aggie, is tough, smart, witty, and just all around a great character. I loved seeing her stand her ground, trying hard to break this curse and having a crush on Logan. I can't even explain how amazing this book is and how fast you will be sucked in, so you better be ready. ~Serenity's Lovely Reads
"This book had a big family feel to it. You could really get to know just how much characters cared about one another. The family, which were mostly just amazing friends close enough to be family, stuck together through it all. So much magic was in this book. The magic seemed old and mysterious, and at other times new and exciting. " ~Books Amazing Books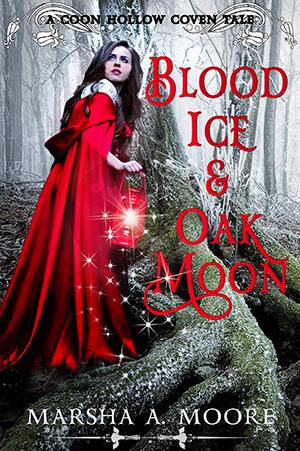 Blood Ice & Oak Moon
Esme Underhill is about to discover a darkness hidden inside her that could destroy her chance for independence and possibly kill her.
Esme's mother took her young daughter away from Southern Indiana's Coon Hollow Coven to prevent her from learning about the unusual witchcraft she had inherited. When Esme is twenty-seven, her beloved Grammy Flora passes away and leaves her property in the Hollow to her granddaughter. With this opportunity to remake her life and gain independence, Esme attempts to emulate Grammy Flora as a wildwood mystic who relies on the hedge world of faeries to locate healing herbs. But fae are shrewd traders. When they open their world to her, she must meet the unknown malevolence of her birthright.
Thayne, the handsome king of the fae Winter Court, faces his own struggle to establish autonomy as a new regent. He is swept into the tempest of Esme's unfolding powers, a dangerous threat to his court. His sworn duty is to protect his people, despite Esme's beauty and allure, which tear at his resolve.
Both Esme's and Thayne's dreams of personal freedom are lost…unless they can trust each other and overcome surmounting dangers.