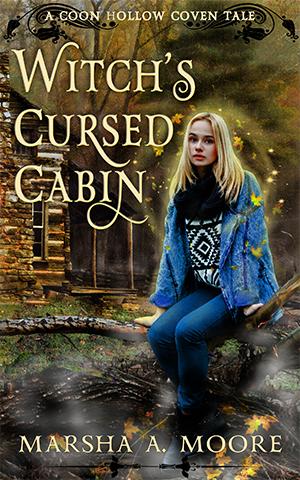 FOR ANNOUNCEMENTS OF NEW RELEASES AND SPECIAL BOOK EVENTS, PLEASE SIGN UP FOR MY
AUTHOR NEWSLETTER.
Witch's Cursed Cabin : A Coon Hollow Coven Tale
Readers' comments:
I'm really loving the Coon Hollow Series! I like the new adult theme and the witchcraft lore of these books. There is also a subplot of romance for those who love the endorphin rush of a happily-ever-after! Aggie was such a great character. I really enjoyed reading about her adventures in Coon Hollow. The romance in this novel wasn't as strong as book 1, making this book more of a female-driven novel. Aggie was no damsel in distress! The world building was vivid and absolutely fantastic. When you read a book by Author Marsha A Moore, be prepared to escape into her fantasy worlds. I love her writing style. Overall, I would highly recommend this series to fans of paranormal romance focusing on witchcraft. 5 stars! ~A Well Read Woman 5 stars--
This fantastic tale has a little bit of everything. My personal favorite, a quirky yet secretive ghost living in the homestead cabin with Aggie, the main character. The town of Coon Hollow had a comforting homey feel where the witches are down-to-earth, friendly Midwesterners. I liked the originality of the 1930's environment in a present-day world. With all the mysteries to solve and a curse to break, it makes for a great thriller as well. Loved it! ~Lori, Amazon reviewer
5 stars: I really liked book one. But this one just blew me away! More details, characters, world building. I just loved being sucked right in and glued to the pages. Anywho, Aggie is a witch from another coven and is moving to Coon Hollow Coven. Not only is she confused about the dead souls still having witch craft in them, she's also an outsider. A coven is protective and doesn't like outsiders. But I just thought that these people were really mean and tried everything they could to drive her away. Black magic, cursed cabin, wanting her powers. All this and Aggie still held her place. She didn't let anyone stop her, and so what if the cabin is haunted. That just means she will be focusing on a way to break the curse. Otherwise this will just be a daily thing for her, oh and no one will be safe of course.
Aggie, is tough, smart, witty, and just all around a great character. I loved seeing her stand her ground, trying hard to break this curse and having a crush on Logan. I can't even explain how amazing this book is and how fast you will be sucked in, so you better be ready. ~Serenity's Lovely Reads
"This book had a big family feel to it. You could really get to know just how much characters cared about one another. The family, which were mostly just amazing friends close enough to be family, stuck together through it all. So much magic was in this book. The magic seemed old and mysterious, and at other times new and exciting. " ~Books Amazing Books