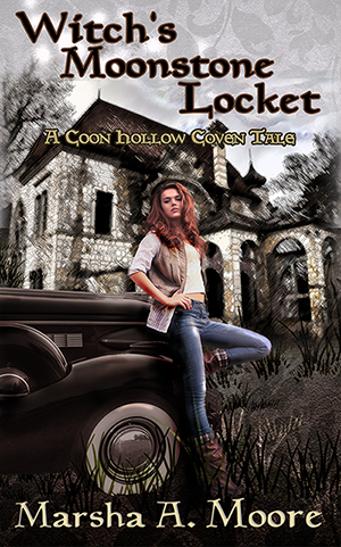 FOR ANNOUNCEMENTS OF NEW RELEASES AND SPECIAL BOOK EVENTS, PLEASE SIGN UP FOR MY
AUTHOR NEWSLETTER.
Witch's Moonstone Locket : A Coon Hollow Coven Tale
Readers' comments:
"Witch's Moonstone Locket is a dark, yet captivating tale of love, loss and the need to heal. When good must stand against evil, who will remain standing? Marsha A. Moore has cast her own brand of magic on this story by creating a world where magic exists, while its practitioners live a lifestyle reminiscent of days gone by. Imagine living in a small town where part of the population still lives in the 1930's, in their manner of dress and everything in their lives! Clever casting, uniquely drawn characters, subplots spidering out in all directions, only to be tamed and tied up in a neat bow at the end, Witch's Moonstone Locket is a fascinating twist on myth and magic. Marsha A. Moore lets her words flow, and each scene comes to life, complete with the breezes, the backgrounds and characters that almost make you feel you have fallen into a fairytale remake come to life. This is a hidden gem in more ways than one." ~Tome Tender
"Witch's Moonstone Locket has received a great '5 fang' review from Paranormal Romance and Authors That Rock. I had a fantastic time creating this world, and it makes me so happy when readers also enjoy it!
Here's a sample. "This story takes place in present day, in a small town with a small coven of real witches living near regular humans. What a wonderful, magical world with talking animals and really cool magic. I love seeing the beginning magic school children witches are learning. The way the witches lives and skills are described is magical in itself. The author did a good job immersing the reader in the world of spells and powers." ~Paranormal Romance and Authors That Rock
"I absolutely loved this book !!! This is the second book I have read written by Marsha and I will add many more to it in the future. She has such an easy going writing style that captures her audience and before you know it you are deep in the story. The pace of her book is exactly what I am looking for. I don't like to be rushed through a story, but then again I don't like to drag on and on in a book either. Finding the right balance is often difficult but Marsha knows exactly how to do that !!!
Her main characters are an amazing mix of characters. You can't help but love Janice and feel with her throughout the story. I have cried with her and laughed with her and loved every minute of it. Rowe is the perfect partner for her and just as adorable as she is. All her supporting characters complete this great mix of people. Adara is a true villain and plays the part too well. She gave me the creeps a few times.
All in all I can only recommend this book. It really has everything I look for in a book and the story is new and different, can't beat that. I look forward to read more from Marsha since she is an excellent author !!!!" ~Mona, an Amazon reviewer
"It's not often that a book comes along where you are sad when it ends, at least not for me, Witch's Moonstone Locket from Marsha A. Moore is one of those books. I am eagerly awaiting book 2, I want to know what happens next!
I wish I could meet someone like Rowe, he's so romantic and sweet, many a girls dream guy. Jancie is the one that captures his heart though, she's a very lucky girl, or maybe not with the trials and tribulations she must endure first." ~The Reading Head
"I'm not sure where to start with this book, it had all you could want in a good book! I didn't want to put it down, the author had me at the first chapter! Jancie is such a great character, she was believable and very likable. I was not sure where the story was going to go and that made me want to read more… Rowe was so fascinating to learn about from his great loss in life to his owl. I loved his owl!! The only thing I can say bad about this book was I wish there was another chapter.! Hope there are more books to follow!" ~Review by Brave One
"Witch's Moonstone Locket is a great read. The background mythology is well developed, the descriptions are vivid, and the story is wonderfully written. The extended cast of characters is extremely well developed and the protagonists are strong and very likeable, while the villainess is delightfully treacherous. The lines are drawn between good and evil early on in the novel, and the reader is left on the edge of their seat as each side plots their moves, and danger grows ever closer for everyone.
The action draws to a rapid climax as the novel closes on a poignant and satisfying note. A great read with something for just about everyone, recommended for all fans of fantasy, romance, adventure, and the supernatural." ~Flynn Gray, author