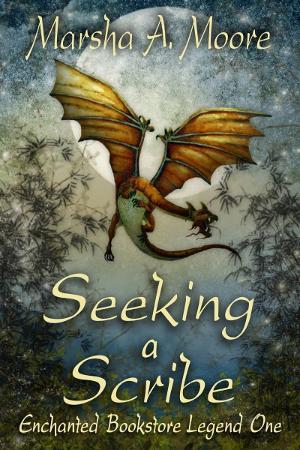 PURCHASE AT AMAZON FOR ANNOUNCEMENTS OF NEW RELEASES AND SPECIAL BOOK EVENTS, PLEASE SIGN UP FOR MY
Seeking a Scribe - Enchanted Bookstore Legend One
Readers' comments:
"I absolutely loved this book! All of the plot twists moved seamlessly into each other without any bumps. The developing romance between Cullen and Lyra didn't hurt either. The story was well written and well thought out. I will read more by this author and more of this series. I give this book a 5+ on any scale." ~Jean, on Goodreads

5 stars "Marsha you are an awesome story teller. Fantasy for grown ups I love you Marsha. I also love Lyra and Cullen and of course the loving cast of amazing, funny, heroic and lovable characters. There are quite a few mean black hearted ones too. There is also a brilliant romantic love story entwined in this magical fantasy. Loved it down to the last sentence. PS my husband read it first, I had stop reading what I was reading at the time and walk him through finding and buying the next one. My sweet husband usually reads westerners. You've got to read this one a real page turner." ~from Jean

"I think the really cool thing about the plot in the book was that really their were kind of two plots. One in Lyra's world and one in the world that takes place inside of the book. But the two plots worked so well together in tandem, because obviously Lyra was a part of both of them. I think often times when you have something like this book, that is a little bit more complicated on the plot side, as a reader you can sometimes feel like you are missing out on some of the details or that too much is going on and you can't follow the storyline, but this was no a problem at all in Moore's book. She made everything about both worlds very easy to understand and fun for the reader to follow along with." ~from Kate's review, Urban Fantasy Reviews


"Fantastic Characters! Well written with relatable personalities and love-able attitudes. The Plot flowed well, and the pace was good. I found the writing style great, with well written out world settings. I loved the originality of this story. Lyra is the only one to defeat the black dragon and the story really draws you in, making you feel as it it is you who must complete this. You've gotta read this!
My Rating 5 stars!" ~Melissa, WereVamps Romance Reviews
"5 stars…this book sounded like a fantasy I always had. How incredible would it be to walk into a bookstore to get a book, but instead, the book comes to life for you? I love this. And I love it even more since it is packed with incredible and lovable characters to die for.
Lyra and Cullen have an instant connection in the book right from the first chapter. You can see they were made for each other.
And the animals, oh boy the animals. This book is full of great talking animals that you will love instantly. My favorite was Noba, the pseudodragon. He was so sweet and adorable and very helpful. Kenzo was a tiger owl that was small, but definitely had a bit of an Napoleon complex. There was a unicorn that was actually quite the badass (that is by far the strangest thing I have said) and many more that make a huge impact on Lyra in the book. I applaud Moore for coming up with this world. It was truly epic.
Moore created such a great world that it left an impact on me. I was sad when the book ended because I wanted more. I love all the mystery in this book and some may be unsolved, but it leaves a lot to be discovered for book 2, Heritage Avenged, which I am dying for. I loved the romance in the book. Definitely recommended for those who want an original and beautifully written epic fantasy." ~Diana, Offbeat Vagabond Reviews
"This book is filled with magic, a fantastic quest, dragons, good overcoming evil and the connection between Lyra and Cullen. The author has woven together an amazing story that draws the reader and keeps you hooked. As I turned each page, the more engrossed I became with the tale. I refuse to give away anything about this story as it's so wonderful I don't want to spoil it!
Will I recommend this book? Yes, most definitely. Will I read more by this author? You betcha! I can't wait to read the next book in the Enchanted Bookstore Legend series. I have to say this has drawn me back into the fantasy genre again..." ~Aislynn at Read, Stitch, Cook
"5 stars--Cullen Drake, A Bookstore Owner And A Wizard From Dragonspier Had Been Sent By The Imperial Dragon To Seek Out A New Scribe Foretold To Write The Greatest Book Of His World's Existence And Found The Ten Year Old Lyra In A Hospital Fighting For Her Life. When She Read From The Dragonspier Book, He Had The Power To Transport Her To His World Where She Thrived, But He Lost Track Of Her For Twenty-Five Years. Now. Fate Had Had Brought The Young Girl He Remembered Loving And Waiting To Love Back Into His Life. She Had The Power To Fight The Black Dragon And Keep Evil From Taking Over His World, But Was She Strong Enough So All In His World Wouldn't Die?

Wow, Be Prepared For A Fantastic Story As Lyra Learns She Came From A Long Line Of Scribes And Learns So Much About Who She Is!!" ~Linda Bass

"5 stars--Dragonspeir is rich with imagery and I can easily picture myself walking the same paths as Lyra, Cullen, and her animal guides. The characters are well developed and relatable and I'm sure you'll be rooting for Lyra and Cullen like I was. I'm putting this author on my watch list!" ~Lauren Bearden

"5 stars--The settings are as breathtaking in one reality as they are real in the other. Ms. Moore has a flair for description, you can practically feel the heat of the dragon's breath on your skin. She makes the leap between the two worlds seamlessly. Her characters transition in the blink of an eye and are as real as your next door neighbor...if your neighbor is a wizard! This author is one to watch." ~Lynn Marie

"Moore truly created an enchated fantasy world, filled with dragons, talking tortoises, fairies, and you name it… it probably makes an appearance at least once. Yet, the fantasy world feels so natural and never feels like its overwhelming the story, but rather rising to new experiences not yet explored." ~Linda Harley at RoseBuz Reviews